Welcome to Yubing's homepage!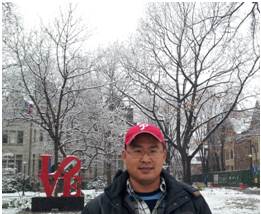 <![if !vml]><![endif]>   
Tong, Yubing (佟雨兵), Ph.D
Senior Research Investigator
Director of Operations
Medical Image processing Group (MIPG)
at Radiology Department, University of Pennsylvania
#602w, 6th floor of Goddard Laboratories Building, 3710 Hamilton Walk, Philadelphia, PA, 19104
Phone: 001-215-746-8629(O);
Fax:001-215-573-1811
Email: yubing@pennmedicine.med.upenn.edu
[ Full CVs ] [ Patents & Publications (download) ] [ Presentation & Talks ]
Related research and working experience:
Nov 2018~ _MIPG/UPenn_ (University of Pennsylvania), U.S.A
Seniro Research Investigator, Director of Operations, working on medical image processing and computer vision
April 2016~Oct 2018 _MIPG/UPenn_ (University of Pennsylvania), U.S.A
Research Associate, working on medical image processing and computer vision
Jan 2011~March2016    _MIPG/UPenn_ (University of Pennsylvania), U.S.A
Postdoctoral research fellow, working on medical image processing and computer vision
Jan 2010~Dec 2010 _LIG/CNRS_ (Centre National de la Recherche Scientifique), France
Postdoctoral research engineer, working on parallel machine learning algorithm for multimedia retrieval
Jan 2009~Dec 2009 _Hubert Curien Lab/UJM_ (Université Jean Monnet/Université de Lyon, ST Etienne), France
Postdoctoral research fellow, working on computer vision and visual perception processing and attention model building
Nov 2006~Dec 2008 _Arcsoft Inc,_ Shanghai, China
Video software engineer and project manager, working on video codec optimization
Jul 2004~Oct 2006   _Electrical System Lab. Beihang University,_ Beijing, China
Team leader, workong on the project "video compressing system development on ADI/DSP-Blackfin561".
Jan 2004~Jun 2004 _Lonovo Inc.__ Beijing, China
Intern as software engineer, working on the project of MPEG2 system codec optimization on TI-DSP (DaVinci DM642).
<![if !vml]><![endif]>
Biosketch:
Dr. Yubing Tong, has over 10 years of experience in computer vision, medical image processing and system design after achieving his Ph.D at 2006 in Beihang University, Beijing, China. Closely working with Prof. Udupa, JK at Medical Image Processing Group (MIPG) in the University of Pennsylvania, he has set up a body-wide hierarchical fuzzy modeling, recognition and delineation of anatomy approach for object segmentation in medical images, and designed an abdomen fat quantification approach based on standard anatomy space. He also successfully developed a 4D dynamic MR image construction approach which has been applied in an ongoing thoracic insufficiency syndrome (TIS) project of the Children Hospital of Philadelphia (CHOP) frontier program. He has 1 granted international patent and another 7 patients being applied with over 100 publications. His research has been supported by NIH and NSF funds and Nvidia Inc, ITMAT/UPenn. He has served as a peer reviewer for over 20 international journals and a program committee member for over 10 international conferences. He has also served as a NSF grant reviewer. Before joining in MIPG group at UPenn at 2011, he worked in Arcsoft Inc. as a software engineer and then a project manager (2006-2008), and later worked as a postdoctoral researcher at Grenoble informatics Lab (LIG) which was ranked as A+ in CNRS (Center National de la Recherche Scientifiqure in French), France National Scientific Research Center (2009-2010).
<![if !vml]><![endif]> 
Research Interests:
Medical Image Processing & Analysis: Quantitative Radiolgoy research including medical image segmentation and registration, focus on automatic anatomy recognition approach for organs segmentation in the whole body wide; especially 3D/4D segmentation of upper airway organ system, lymph zones and lymph nodes detection, 3D/ 4D organs deformation and motion research as well as 4D MR image construction from 2D slice acquisitions; fat quantification based standardized anatomy space approach, MRI/CT image intensity standardization and non-uniformity correction, PET-CTquantitative research, machine learning and deep learning tools in medical image segmentation, prediction of treatment repsonse analysis.
Visual perception and image retrieval with machine learning techniques: visual perception mechanism research as well as gaze/attention model building and model's application, such as image quality analysis with saliency detection models; (active) machine learning techniques in image retrieval with multiple classifiers for large scale un-balanced data set and machine learning techniques for image quality analysis.
Video compress and embedded system application & development: Video compression algorithms / video surveillance system based on H.264, MPEG-4 and HEVC, as well as video codec (encoder and decoder) optimization on the embedded system (DSP or ARM system); application development on Android platform (with Samsung Galaxy S4, S6).
<![if !vml]>

 
 

Languages:

Mandarin (native), fluent in English and Cantonese .

Other Links

Group webpage:

https://www.pennmedicine.org/departments-and-centers/department-of-radiology/radiology-research/labs-and-centers/biomedical-imaging-informatics/medical-image-processing-group

Link for publications on NCBI:

http://www.ncbi.nlm.nih.gov/myncbi/browse/collection/47326897/?sort=date&direction=ascending

Google cites:

https://scholar.google.com/citations?user=2JmiMCEAAAAJ&hl=en

Updated by Sep. 1, 2019.